So in addition to a myriad of all sorts of other bad shit that was visited upon me on Sunday, Jan 25, a day in which the best parts were spent laying in bed in the morning and laying in bed at night, it appears that a bona fide art heist happened to me as well. Just like the Blue Dog that was stolen earlier this month.
Stolen from the back of my truck on Royal street in Bywater were several pieces of art.
Maybe I can get punk band / art vigilantes Stereo Fire Empire to help me recover them.
So, these were unique pieces, one-of-a-kinds. So keep an eye out and let me know if you see..
"nebula"
This assemblage piece of salvaged wood stars. Particularly valuable since it is a "study" for a series of astrophysics pieces I will be working on throughout this year….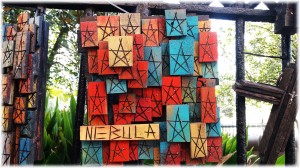 "use your muse"
Salvaged wood piece made from two planks of antique siding with swamp cypress figure.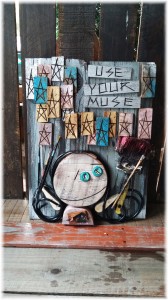 Also jacked but less original were three voodoo doll pineheads that resemble the three pictured below…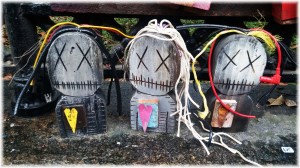 And three ceiling fan blades with voodoo dolls painted on them that resemble this…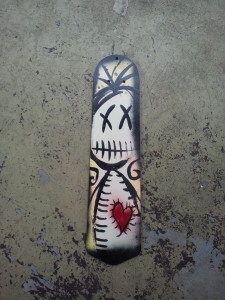 Also missing are a bunch of my business cards, a solved Rubik's Cube, some tools and the Amulet of Drunk Shorty and the Coin of Craig…