Posted by:
Varg
in
Food
[beer snob ="on"] When the Benny the cashier at Sidney's Wine Cellar first reccomended Shiner's Ruby Redbird ginger and grapefruit beer to me, I immediately rejected the notion like Parisians rejected the Rite of Spring. But the intense swampiness of last Sunday in the Square had me in an ethereal state of mind so as I gazed upon the ample beer selection at Sidney's I was compelled to get all beyond-the-nine-dots and give it a whirl. Business was slow and, it was BEER after all!
I was cautious, having recently endured a bad experience with Covington Strawberry which lacked the crispness of Abita's Strawberry Harvest and instead was akin to drinking frothy jam. This fortified my weriness toward fruity beers after a similar experience with Samuel Adams Cherry Wheat (though the brewery redeemed itself with the esteemed Noble Pils).
The top of the bottle read, "the perfect Summer beer." I always thought of Stella Artois or Sapporo's Reserve to be great summer beers. I had my favorites so was quite skeptical of the boldness of this johnny-come-lately brew spouting off about it's own perfection like some self-righteous Stone Brewery concotion.
So I was expecting it to be all "meh" but what I got was an experience akin to your first french kiss. My lawd it was amazing. You are first hit with the tartness of the grapefruit and like the light in the Book of Genesis, it is GOOD. As you swallow you a expecting that over-sweet taste that accompanies many fruit beers but is delightfully replaced with a dry crispness and them, whoa, the ginger fills in the rest. Brilliant and sublime. Everybody I let taste it loved it too. Not sure what's wrong with these d-bags though. They probably drink copious amounts of Blue Moon and listen to Lady Gaga. Who cares about aroma and head?
I must give this beer my ultimate compliment which is actually a complaint, the bottles aren't big enough. I need the Redbird in a 22 ounce bottle. Can't see how it would last much longer than the 12 ounce bottle though. The stuff goes down smooth and quick. I am actually thinking of putting it on ice next week and seeing how that goes.
And like that first french kiss, I couldn't help but think about Ruby that night so much so that I had it with a few Nutri Grains for breakfast the next day as part of my obligatory Monday morning at the Square breakfast beer ritual.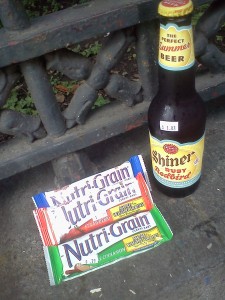 Ruby Redbird I love you! This is for you! [beer snob ="off"]