Posted by:
Varg
in
Art
,
Jax2
As a full-fledged, self-supporting, fedora-sporting member of the growing creative class, I present these 12 tips in the best ways to buy from and deal with street artists or market vendors…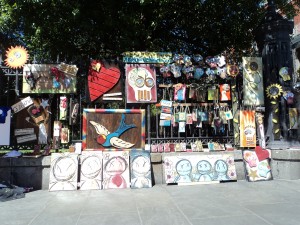 Do not devalue the art.
One can try to bring the price of a piece down by pointing out what they perceive as flaws in it. What they actually do is demean their own taste. Why would they want to hang something sub-par on their wall (or worse, give as as a gift)?
Don't say, "I'll be back" as a way of saying "I'm not interested."
Many people don't want to hurt the feelings of an artist by showing interest in the work but not buying. So they say, "I'll be back" even though they have no intention of doing so. Just say, "Thanks, it's beautiful." The problem is the artist sometimes expects the person to be back and may even wait on them. It can be especially uncomfortable when someone forgets they told the artist they would be back and then by chance happens on by again and the artist sees them and says, "You're back!" and the person embarrassingly has to sort of slip away. Awkward.
Especially don't say,"I am coming back to buy this one, can you hold it for me?"
I never hold a piece unless there is some money down but some artists do. A better plan would be to just pay for it all and then have the artist put a "sold" sign on it. "Sold" signs up the value of the art. Otherwise, inevitably the piece that is being held with no money down is wanted by someone with money in hand and the artist has a dilemma. Worst case scenario, they pass on the person who wanted to buy it and the first party doesn't return. Second worst, they go ahead and sell it and the first person returns and questions their ethics.
Never say, "I could do that."
Pardon me for slipping into first person here. I mean them, not you reader.
First off, you couldn't. Not without the artist having presented the composition for you to copy. It's not your original idea and original ideas are where much of the value in the art is.
Second, You may think you could do it but, it won't look as good. There are many details in most art. Much of that detail is discovered little by little by little as the artist develops their craft. Whatever bullshit attempt at the piece you are making will lack several of those details because you haven't put in the time and not look as good.
Third off, I am assuming you know how to cook a steak too. So does that mean you have never bought one? You're paying someone else to present a finished product to you. It's not a competition between your skills and theirs. The artist could probably be a desk clerk or whatever the hell it is you do also.
Fourth, I make my stuff in a messy shop with tools I have bought one by one. You will need this shop and these tools to make the piece. It's not cost effective to buy all this to make one piece. If you happen to have a chop saw, scroll saw, jig saw, clear coat, several bottles of spray paint, sandpaper, brad nails, floral wire, a staple gun with staples, and wood salvaged right here in New Orleans which might be hundreds of years old, go ahead.
But…
… I aint planning on living forever but I do plan on promoting myself and my art until the day I die and with luck that will make this stuff go up in value while your bullshit knockoff never will.
"I've got $50 CASH."
At some point in the past, having folding money may have been preferable to a check that may not clear or a knuckle-busted credit card that would have to be phoned in and then not be approved. But these days, credit card transactions are instant through smart phones and go right into an artist's bank account for a 2.7% fee. So if what the buyer if offering as an incentive is a greater amount than that percentage point, the CASH isn't an incentive at all. It seems more like a way of saying, "Look you fool I am trying to give you MONEY here!" But honestly, there are all sorts of people who are offering money who aren't trying use pejoratives to do so. Perhaps it's like a wink, wink, nod, nod that I may not have to claim the cash on my tax return but it would look pretty funny if a street artist reported nothing but credit card sales wouldn't it? Like there is no one using cash in this mostly cash business.
Carpe Diem
Never just leave it up to the Universe to make the decision. It is the will of the Universe if civilization gets destroyed by Planet X. It is not the will of the Universe that is deciding this art purchase. Horace said "SEIZE the day." He didn't say "Seize the day if it is there when you get back from Cafe Du Monde." See more here.
How much is this? $100? How about 25?
As a rule, I will never go below a two-thirds of my asking price and only then under extenuating circumstances such as the piece being particularly heavy and difficult to schlep, or particularly delicate and in danger of being ruined, or having been in inventory a particularly long time. But I don't go below that for anyone except a client who has been generous in the past, or a friend, or someone buying multiple items from me at one time. To just expect some vast discount of 50% or more, again, shows the attempt at a pejorative and is always shot down, often in a reverse pejorative that belittles the person and makes them look cheap. "I do take food stamps" and "Awww, $100 IS a lot of money for you isn't it?" are favorites.
The art is priced at what it is because it has been proven to sell at that price.
If there are multiple pieces hanging that are similar in size and detail, it is usually because this item is not some lone artistic effort but rather a proven seller. It has a specific look, takes a specific amount of time and effort to create, requires a specific amount of effort to present and has a specific price. If one customer doesn't buy it, another one will. So asking for money off of these pieces is akin to just asking the artist for $20 and then walking away. Some artists entire inventory is composed of art that all looks somewhat similar with slight differences. These artists are more calculated in their inventory and are less likely to just give money away. I often start certain types of pieces low and based on the comments I hear and how quickly they begin to sell, move them up to a price that seems to be reasonable for the clients and me.
Never treat money as "bait."
Never, EVER, ever, ever, ever, ever, wave money around in front of the artist in an attempt to hypnotize them with its allure. It's just not that enticing and especially isn't in the hands of the individual who would do so. The artist has chosen to utilize their beautiful mind to beautify the world, if they were so seduced by money they would have run a 900 number or been a preacher something.

A "starving" artist looks like one.
Most good artists aren't "starving." Romantic notion but not so common. They either have another job on the side or, if they don't, can pay all their monthly bills with what they make from art which, by definition, includes groceries. A starving, or just broke-ass, artist will show their desperation early and won't be asking much for their work in the first place.
If you are looking for some special deal…
…approach after the artist has just set up or on the verge of breaking down. Sometime they like to "break the ice" quickly. Sometimes they want to finish up with a sale and lighten the load.
More affordable prices can not be found anywhere.
If one encounters an artist on the street or at a market, they are getting direct-from-artist prices. Galleries often feature art marked-up by 40% to 60%. That's acceptable, sure. Galleries (well, some galleries) promote the artist, provide a more stationary point of sale and so on. But if the opportunity presents itself at a market or on the street to buy the piece direct from the person who created it. Do so. There will be no middle man. You get to meet the artist and ask them questions and find out more about your piece than one normally would at a gallery or shop. And more money goes to the artist. I price my pieces the same in the gallery or out so, I do pay out to the gallery 40%. It's worth it to me because they do some of the work. But the best place to get the art is drirect from the artist.