Posted by:
Varg
in
Enemies
I know I am a little late to the party on this one so I'll just try to post some very brief points. My Nola blogger brethren have already superbly addressed the dude, accuratly pointing at the amazing lack of critical thought he has perpetrated on the Internet. Cheers and love to them.
So I will just say this: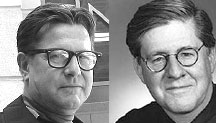 MR. VAN DER LEUN IS THE HEAD VAMPIRE!
Seperated at birf those two.
Seriously though. I feel less and less threatened and more and more frustrated with this brand of ignorance as the years go on. If I lived somewhere else it would be easy to ignore them like the rest of society does. But since they have chosen my hometown as their "I'm OK, Your not OK" political bile, I am tasked with taking one for the team as they say. I get to be hated so others can live free. I'm fine with that. Luckily, I encountered this 'mook late in the day and the bloggers linked above have done all the heavy lifting as it relates to his inaccuracies and all-around douchemookery.
I will say that when it comes to hate, people tend to loath you for your happiness. And since Mr. Van Der Laun chose several times in his post to address the very culture and joi de vive of New Orleans, I would hazard to guess he pictures himself too dignified to get all dressed up and dance in the street. Which is probably the root of his and his followers problems – a complete and utter lack of spirit. Who took it? Where did it go? Must have happened in childhood?
I can at least take heart in knowing that his insipid brand of conservative thought has grown more and more irrelevant as the world progresses. The latest elections are all showing that. Even he has wavered from it from time to time, donating money during the flood then suddenly coming to his senses and wanting it back (Hint: It was when you showed empathy and compassion that you were truly human, less so now). Like a zombie twitching on the road, his is a way of thought that once had a shred of momentum after a brutal attack but before everyone realized that it's philosophy was essentially playing High Popalorum vs Low Popahirum with the terrorists.
Mr. Van Der Laun? Do you wonder why your views are marginalized? Perhaps it's because people aren't down with calls to nuke their own country? Perhaps it's because most of us don't pick and choose our sorrow.